In September 2011, after being
removed from the Livermore High
School
Library in California,
Sister of Silence
, by
New York Times Best-Selling
Author Daleen Berry
, joined the ranks of other banned books
such as
The Bluest Eye, I Know Why the Caged Bird Sings, The Great Gatsby,
and
The Adventures of Huckleberry Finn
! The e-book version of this award-winning memoir, which includes one
FREE
chapter from the author's next book,
Lethal Silence
, is now available at bookstores everywhere!
These links will take you to various sellers that carry the paperback and/or e-book:
Amazon
,
Kerri's Korner
, and
Tamarack
!
---
What's been happening with this book:
---
To order this title now, please call 304-906-5633:
Sister of Silence (344 pages) is now available for just $9.99—almost half the $18.99 retail price. You can make your secure purchase online or by calling the toll-free number below. We accept MasterCard, Visa, Discover and American Express. Please allow up to two weeks for delivery. If you're in the U.S. and wish to pay by check, just send $13.99 to cover tax and shipping to: Nellie Bly Books, P.O. Box 242, Morgantown, WV 26507. (ISBN: 9780615388601 - LCCN: 2010934361)
---
Book Description: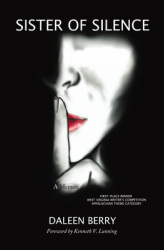 After a shotgun wedding, the author found herself barefoot and pregnant—and the mother of four babies by age twenty-one. Follow along on Daleen's personal journey from coal miner's wife to teen mom to award-winning journalist, determined to break the silence that shatters women and children's lives. A riveting true story, this memoir demonstrates the astonishing resilience of the human spirit.
*Kenneth V. Lanning, a retired FBI special supervisory agent who spent more than twenty years teaching about family violence at Quantico, Va., wrote the foreword for
Sister of Silence
. He says it's "ultimately a story of survival and hope."
*Dr. Jacquelyn Campbell, a Johns Hopkins University nursing professor and one of the country's leading family violence researchers, calls
Sister of Silence
"wonderful!" Campbell was the first professor to place the book on her syllabus.
SOS
has been or is being used at the University of Louisville, Towson University, Oklahoma State University and Las Positas College; Dr. Jean Shimosaki, LCSW, MSW, a Bay Area therapist, is using it with her patients, as it provides "a step-by-step guide for healing."
*SOS
took first-place in the Appalachian category at the West Virginia Writers' Competition, and was
banned at Livermore High
School in California and removed from library shelves as "Banned Book Week 2011" began. It has been featured at "Hope For the Future: Ending Domestic Violence In Families," hosted by the AIA (UC Berkeley).
---
---
Sister of Silence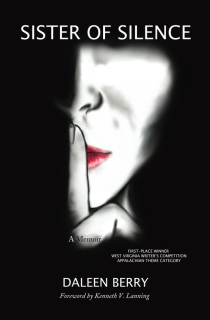 "White knuckles clenched the crib rail as I stood looking down at my newborn. Leaning over, I lifted the sleeping bundle and held it against my breast, feeling the softness of new skin as he pulled tiny legs up against his body. The small silky head turned as he continued breathing slow and evenly, and I felt the whisper of his warm breath against the pillow my neck provided.
Cradling him lovingly, I slowly walked over to the open window, held out my arms, and let go."

---
About the author:
California native and West Virginia resident Daleen Berry is an award-winning journalist who has been covering crime since 1988. She wrote and published law enforcement journals for the West Virginia Deputy Sheriffs' Association and the West Virginia Fraternal Order of Police during the 1990's. Among her awards include first-place for investigative journalism from the West Virginia Press Association, two second-place awards from the Maryland-Delaware-DC Press Association for her weekly newspaper column, and as a student editor, she also led her staff to a record number of awards from the Society for Collegiate Journalists.
---
Praise for Sister of Silence includes:
"Berry is an engaging writer, her style fluid, with welcome touches of humor and sustained tension throughout." --Kirkus

"Berry's story is not an easy read, though her prose is strong and her memory acute." --ForeWord Clarion Review (5 Stars)

"Almost never is an interview subject so open or so candid about the most intimate details of the most horrible moments of her life. Daleen is a very brave women and I hope her story will help other girls and women . . . Daleen you are a magnificent storyteller." —Bob Edwards (Author of Voice in the Box: My Life in Radio)

"In Sister of Silence, author Daleen Berry gently guides us through the dark corridors of her life, so that we can emerge in the light, as she has courageously done, with a sense of hope, authenticity and courage. Sister of Silence is a brave book, written from the heart. It's a must read for the brave-hearted." —Asra Q. Nomani (Author of Standing Alone: An American Woman's Struggle for the Soul of Islam)

"Sister of Silence is wonderful! It's an inspirational story about an amazing woman. In bravely telling her story, Daleen helps us truly understand all the conflicting emotions and seemingly incongruous behaviors that anyone would experience when challenged by such a horrific situation. She found strength in the face of overwhelming destructiveness to protect both her own future and that of her children—but the silence had to be broken first. What courage and resourcefulness her journey entailed, and what a tribute this book is to Daleen and those who helped her. It's a wake-up call for all of us to help end the silence, to make it easier for our sisters to speak up when this happens to them, and to confront the violence against women and girls!" --Jacquelyn Campbell, PhD, RN, Johns Hopkins University Nursing Professor, Domestic Violence Researcher and Advocate

"Sister of Silence shows every woman who reads it that she is not alone, that all over the country she has sisters in her pain and fear and shame. For professionals, it offers precious insight into an achingly common theme in their clients' lives. I look forward to using Daleen's story as an inspiration for my clients, to show that they matter and that what they've survived isn't their fault. With her gritty honesty and compelling style, Daleen has given my women a way to say, 'If she made it, I can, too.'" —Mental Health Case Manager, Women's Correctional Facility

"Ms. Berry captures her extraordinary personal journey from pain and bewilderment to resilience and peace. Sister of Silence honors women everywhere, especially the resilience of rural women and their very human spirit. This is a very important book." —Hilda Heady, Senior Vice President, Rural Health Policy and Research Chair, Atlas Research

"Sister of Silence is authentic, compelling and necessary." —Richard Currey (Author of Fatal Light)

"For marketing purposes, nothing better can happen to a book than having it banned. A banned book is a sure sign that you've done something very right." —Lee Maynard (Author of Crum)

"A dramatic memoir told in a matter-of-fact, yet strikingly compelling, manner." --Appalachian Heritage (Summer 2011 Issue)

"What drives a woman to kill her own child? . . . Sister of Silence is an intriguing look at tragedy and what it means." --Midwest Book Review (January 2011 issue)